The Rock Star Challenge... Can You Achieve Rock Star Status?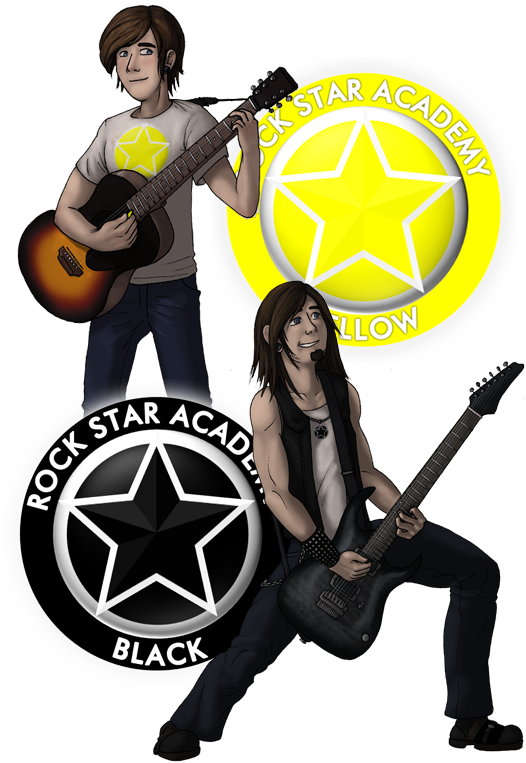 Rock Star Status?
The Rock Star Challenge tests your ability as a guitarist. Work your way through each star, Yellow, Orange, Green, Blue, Brown and Black. When you master the Black Star you have earned Rock Star Status.
As you work through each stage you will discover new chords, chord patterns, rhythms, scales, arpeggios, and solos.
Each stage of the challenge gets a little harder until you reach and conquer the Black Star!
The Rock Star Challenge can also be used to direct you to more material that suits your ability.
At each stage common questions are answered and useful points are explained.
If you're after more details on how all things musical work then we'll direct you to other parts of the website that are worth checking out too.
How It Works
The 'Rock Star Challenge' content in part is based on the progressions laid out in established syllabuses and grading systems.
The Rock Star Challenge content follows a very logical progression in line with established syllabuses used in popular grading systems. You will be offered the chance to learn a detailed theory base that will help you to develop as a musician. However, you can still complete the challenge if you choose to skip past these details!


How To Complete A Challenge... In 3 Easy Steps!
Each challenge has three easy steps. First up you have to learn the chords and scales, then the rhythm and lead parts.
Once you have these memorised you are ready for the assessment.
Chords & Scale:
Check out the chord & scales diagrams, try them out, get them memorised!
Both the rhythm and the lead pattern are based around the chords and scales in each challenge. So learning the chord shapes and scales first will really help you complete the Rock Star Challenge!
Rhythm & Lead:
Practice the rhythm & lead pieces until you're playing them like a Rock Star!
The rhythm & lead piece are written to be played together. You can practice playing along to the mp3s provided for both parts.
Assessment:
Can you play all parts from memory?
Are you getting a clear tone and avoiding unwanted buzzing sounds?
Can you play the rhythm part along with the lead?
Can you play the lead part over the rhythm?
If the answer is YES! Then you've got it nailed!
Now challenge yourself all the way through to Black!